Schedule Model Components
Create export-function, rate-based models, and partitions to schedule model for code generation
Scheduling model components for simulation or integration with an external scheduler requires the algorithms to exist in atomic Subsystem or Model blocks. The execution rate is specified as either periodic (scheduled subsystem) or nonperiodic (function-call subsystem).
Partitions are components of a model that execute independently as atomic tasks. In multitasking models, partitions are created from model components. With partitions, you can separate parts of the model that you can explicitly control in the Schedule Editor tool.
The Schedule Editor is a scheduling tool that represents the components in the model known as partitions, the data connections between them, and the ordering of those partitions. The Schedule Editor can only be used on existing components, such as atomic subsystems, export functions, and model blocks. The Schedule Editor is an interactive tool that provides an easy way to view and edit the schedule of the model components.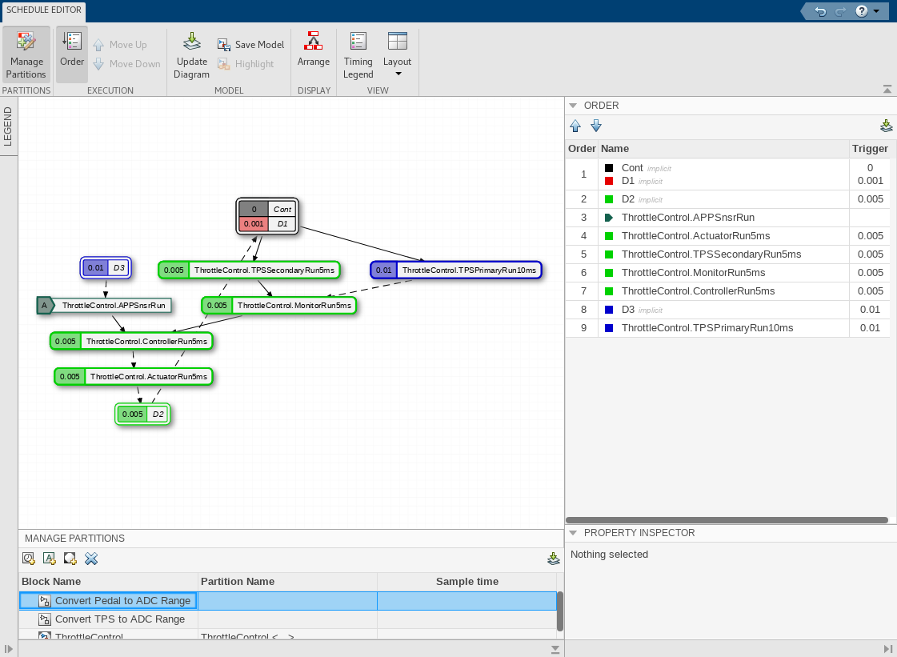 Tools
| | |
| --- | --- |
| Schedule Editor | View and edit the schedule of model components (partitions) (Since R2019a) |