Multicore Processor Targets
Model concurrent execution for systems designed for deployment on a multicore or FPGA system
Multicore programming, or modeling for concurrent execution, helps you to create concurrent systems for deployment on multicore processor and multiprocessor systems. Examples of such systems are signal-processing and plant-control systems. Simulink® partitioning and mapping techniques help you to overcome common challenges in designing systems for concurrent execution.
The figure shows a sample system with multiple functions designed to execute on a CPU- and FPGA-based multiprocessor system. The system is partitioned into multiple components that are mapped to the CPU task scheduler or the FPGA.
To learn the fundamentals of multicore programming, see Concepts in Multicore Programming. For information on how to design systems for concurrent execution in Simulink, see Multicore Programming with Simulink.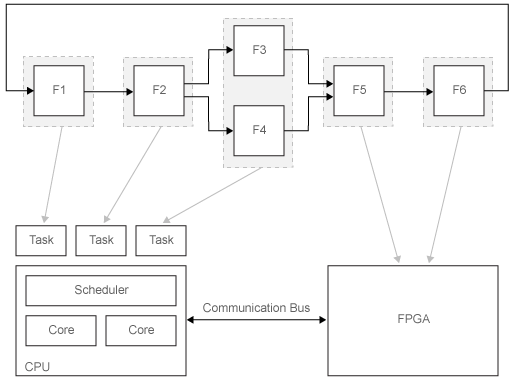 Related Information